Dr Ben Robins
BSc, BSc (Clin Sci), MHSc (Osteo), Grad Dip (Paeds)
Our practice principal, Dr Ben Robins, graduated as an osteopath in 2006 after completing a double degree of Bachelor of Clinical Science and Master of Health Science (Osteopathy) at Victoria University, following a Bachelor of Science at Melbourne University with a major in Anatomy.
He began his osteopathic career in Brunswick in 2006 and Bayswater in 2007, before taking on a role running Balance Osteopathy in Cranbourne in May 2007. Half a week in a single room soon grew to a three-room clinic in 2010 where Central Osteopathy was born. In 2016 he purchased the current site, the beautiful four room heritage building (circa 1906) on Mundaring Drive, which the business moved to in 2018.
Dr Ben enjoys treating problems with the whole body, and has a particular interest in the Cranial system, Paediatrics and Chronic Conditions. He is dedicated to ongoing study including a one-year Paediatrics course in 2012 and six courses with the USA based Osteopathic Cranial Academy, 3 in person and three online.
He has a 16-month-old son (as at March 2023), who after a three-day labour has taught Dr Ben much more about the complex skull and facial functional anatomy. This experience inspired Dr Ben to recently complete further training in Orofacial Myology, which looks at neuromuscular recruitment patterns of the face, mouth and tongue.
For more info about osteopathy for kids and a full list of Dr Ben's training see the Paediatrics tab.
Dr Hamish Millar
BSc (Clin Sci), MHSc (Osteo)
Hamish is passionate about restoring pain-free movement in patients using a structural-based, patient-centred manner. Using techniques such as joint mobilization and manipulation (both direct and indirect), taping, soft tissue (massage), dry needling, stretching, and specific exercise prescription, Hamish applies the best technique for the specific patient's needs.
Hamish has a Masters in Osteopathy, having studied at Victoria University with extra qualifications in Dry Needling and Myofascial Cupping.
As a semi-professional soccer player in the top Victorian league, he has a particular interest in sports performance, injury prevention, and rehab with sporting athletes.
Dr Luke Farrington
BHSc, BSc (Clin Sci), MHSc (Osteo)
Luke has a strong desire to help others and is dedicated to providing a high level of care. He has a holistic view on treatment, incorporating a range of treatment techniques, and using his knowledge of exercises to guide his patients through appropriate programs for both strength and mobility. Luke is passionate about empowering his patients with knowledge and tools to excel beyond optimal function. His holistic approach ensures his patients are always well looked after. 
Luke's passion for osteopathy has led him to complete additional study in anatomy, exercise, dry needling, and cupping, attending courses in Canberra and Melbourne to further his osteopathic practice. Luke treats all types of conditions ranging from ankle injuries to all types of back, hip, neck, and shoulder pain. 
Luke has a strong interest in sport, having played basketball in leagues such as NBL1 and representing his firefighting brigade around the state in the VFBV championships. In his spare time, you'll find him walking his dogs and spending time with his family.
Hayden Winstanley
BSc (Exercise), BSc (Clin Sci), MHSc (Osteo)
Hayden completed a Bachelor of Science and Master of Health Science (Osteopathy) at Victoria University, as well as a Bachelor of Exercise and Sport Science at Deakin University.
After suffering from persistent low back pain through his teenage years and early twenties, Hayden has experienced the benefits of osteopathic treatment and has developed a passion for helping others manage and overcome their persistent low back pain.
Hayden enjoys tailoring his treatment style to suit the needs of each patient who walks through the door, utilising both direct and indirect osteopathic techniques as well as dry needling. In consultation, Hayden utilises his existing knowledge of exercise prescription and rehabilitation to help accelerate the recovery of his patients and assist them in self-managing their symptoms.
Hayden enjoys treating all areas of the body and is available on Monday and Wednesday afternoons.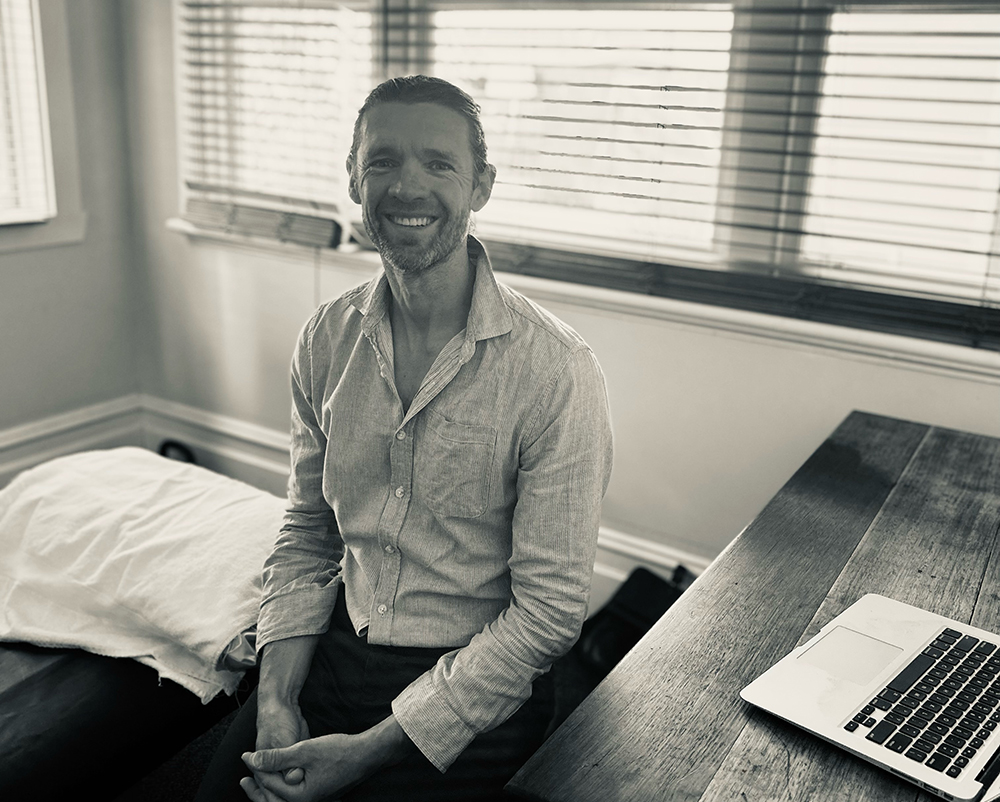 Karl Godden
Having already been both a school teacher and a Paramedic, Karl brings a wealth of life experiences to his Osteopathic practise. The diversity of these previous careers have helped him to understand the myriad of ways in which life stresses can affect the body.
As an avid rock climber, yogi and outdoor adventurer, Karl has a special interest in understanding the mind – body connection. Treating with an approach that incorporates both the mind and body, Karl thoroughly enjoys helping people overcome their life challenges and pursue their goals.
Karl's therapeutic focus is on discovering what can a person do, rather than what they cant. He has experience in treating both acute and chronic conditions and utilises a combination of hands on Osteopathic techniques as well as exercise rehab to achieve the best outcomes for his patients.
Get in Touch
At Central Osteopathy we treat all the tissues involved in a problem including muscles, joints and connective tissues so that the problem resolves quickly.